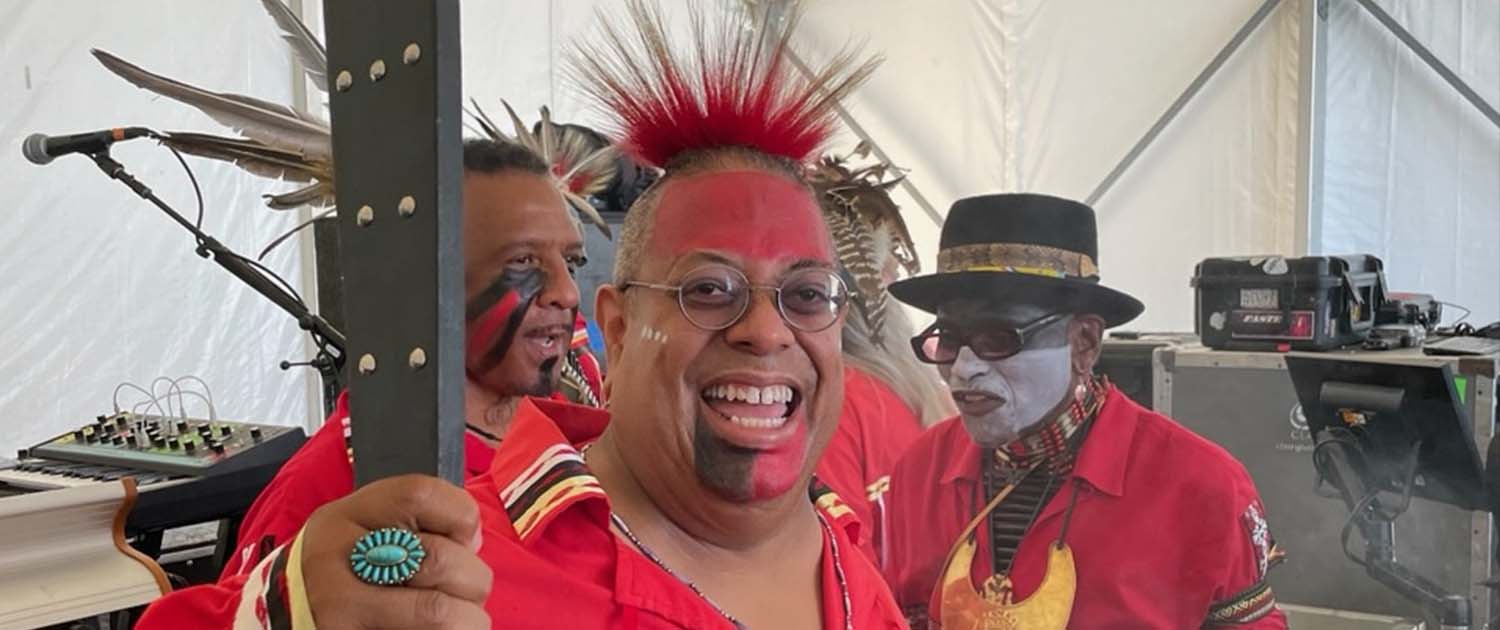 By Olivia Ebertz, Public Radio
On Friday, a Woonsocket and Providence-based Indigenous drum group helped kick off the Newport Folk Festival. The Eastern Medicine Singers aim to bring cultural healing and representation to audiences.
It was hot, humid and sunny at the 2023 Newport Folk Festival last Friday. To try to keep cool, most festival attendees wore as little clothing as possible. But at half past high noon on the festival mainstage the Eastern Medicine Singers, an inter-Tribal drum group from Rhode Island and Massachusetts, wore long deerskin pants trimmed with beads and fringe, cherry red ribbon shirts, feathered headdresses and face paint.
Bandleader and Woonsocket resident Daryl Black Eagle Jamieson is Pocasset Wampanoag from the Pokanoket Nation. He said repping traditional regalia from the region was worth the sweat, especially for the mostly white audiences in Newport.
"A lot of people expect to see a Native from like out West, so I think it's important that we specify that this is an Eastern culture. This is our style of dress," Jamieson said.
All that regalia is handmade by regional artisans.
"George Thomas, he's Pequot, and he makes a lot of the accessories for us and the head dresses," he said. "These ribbon shirts that we have, made by our good friend Birdie up in New Hampshire. And we all make our own different leggings."
And equally important for showing Eastern Indigenous culture is the singing, which is all done in Algonquin, a language with just a few thousand native speakers. The band members all hail from Rhode Island and Massachusetts, making the music a refreshing burst of hyper-local flavor for festival goers.
https://www.pocassetlandtrust.org/wp-content/uploads/2023/07/eastern-medicine-singers-1500-1000.jpg
1000
1500
projects@coldspringdesign.com
https://www.pocassetlandtrust.org/wp-content/uploads/2022/06/Pocasset-Pokanoket-Land-Trust-Logo.png
projects@coldspringdesign.com
2023-07-31 09:44:23
2023-08-03 15:14:32
Eastern Medicine Singers bring Indigenous music to the forefront at Newport Folk Festival